Tempest
Regular price
Sale price
$1,399.00
Unit price
per
Sale
Sold out
Kits contain smoke ejector, door bar holder 300-141, hanging bracket  set 300-142, clip on duct hose adapter 725-177
While they're not as effective as positive pressure ventilators, Smoke Ejectors are still the go to for many departments around the world for their compact size/weight, simplicity and affordability. Perfect for ventilating in confined spaces. Extremely light weight and compact for convenient lifting/carrying and storage/transport.
This Smoke Ejector is designed to perform effective and efficient negative pressure ventilation, or NPV. While positive pressure ventilation (PPV) blows air into a structure, negative pressure sucks air out. This can be useful in confined space situations and/or when ventilated air must be controlled to a greater extent

Uniquely designed impellers deliver maximum air volume (CFM), velocity and pressure. Every size and type of fan features a blade designed specifically for it to deliver the greatest performance possible. Composite blades are much safer than traditional metal blades as they are designed to disintegrate upon impact of any foreign objects. Metal blades may fragment when integrity is compromised, potentially causing severe injury.

Ventilator is available in a number of configurations including a light weight 0.3 HP or high performance 1.5 HP single speed electric motor. Available with hazardous location (Explosion Proof, EP) motors which are intended for Class 1, Group C&D and Class 2 Group F&G environments. Motors can be ordered in 110-120V/60Hz or 220-230V/50Hz.

Lightest weight and most compact ventilator available for extremely convenient use and transport. Its reduced dimensions make it perfect for compartments with limited space and confined space ventilation. At under 50 lbs., lifting and carrying this unit is a breeze and ideal for departments which often carry their ventilator over long distances or up and down stairwells.

The EBS-16 comes standard with a single speed electric motor with an output of 0.3 HP. This specific motor is matched perfectly with the fan blade's size and pitch to produce the most effective air movement possible. This 16″ smoke ejector also comes available with a 1.5 HP motor for high CFM needs.

One of the key advantages to the EBS-16's light weight and compact design is its ability to be quickly suspended in nearly any door or window way. Want to ventilate a difficult to access and crowded interior space through a window? No problem. NOTE: For safety, we encourage the use of our Door Bar Holder (300-141) and Hanging Bracket Set (300-142) to properly hang the Tempest EBS-16.

At 47 lbs., the Tempest EBS-16 is one of the more light weight ventilation units available. Its reduced dimensions and frame design allow users to easily carry it to and from the work site.

Not an ounce of Tempest's well-known reliability and durability that comes standard on every fan was sacrificed to meet this unit's small stature and light weight. The frame is made up of entirely steel; all molded, formed and welded into a sturdy roll-cage design. Like every Tempest, it's built to last on the job site.

Front and rear safety grilles feature a continuous spun wire body with four tie point bars. Meets strict European CE Safety Standards.
We Are Proud To Offer Top-Quality
Firefighting and EMS Supplies Nationwide
Share
View full details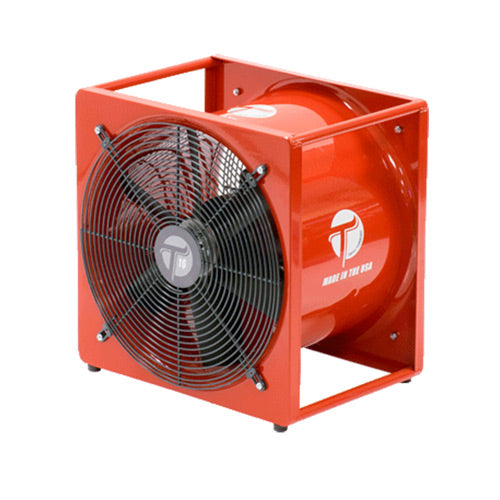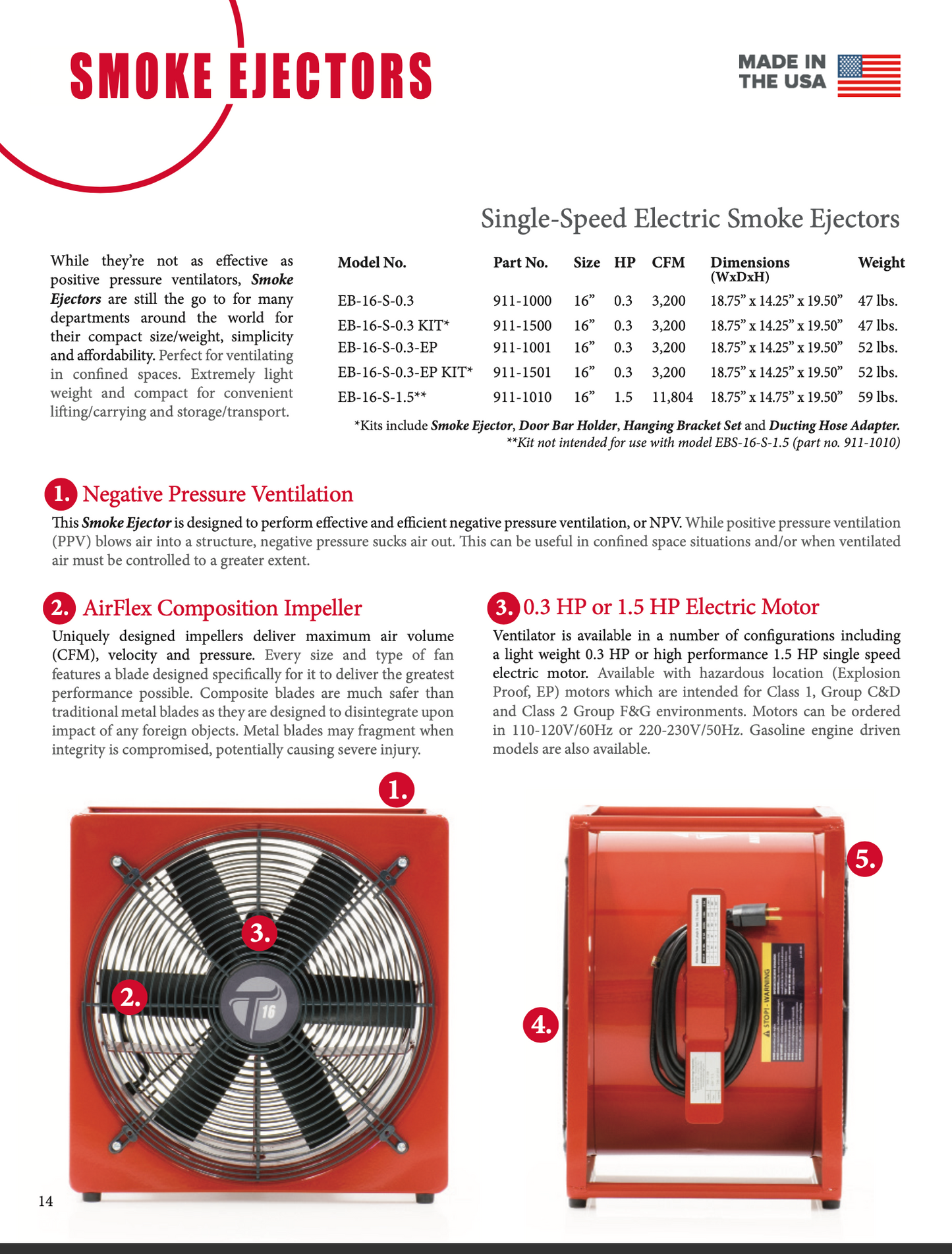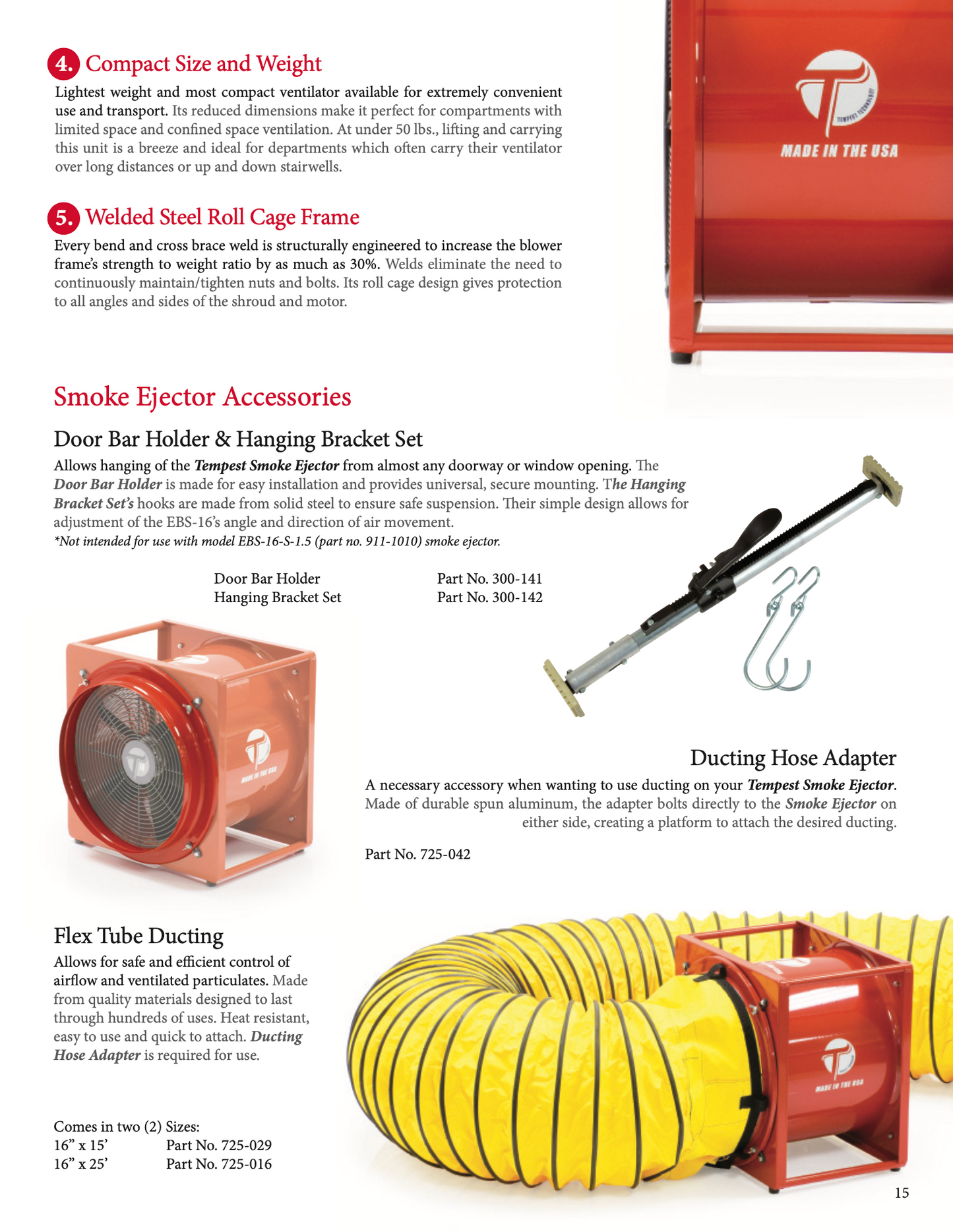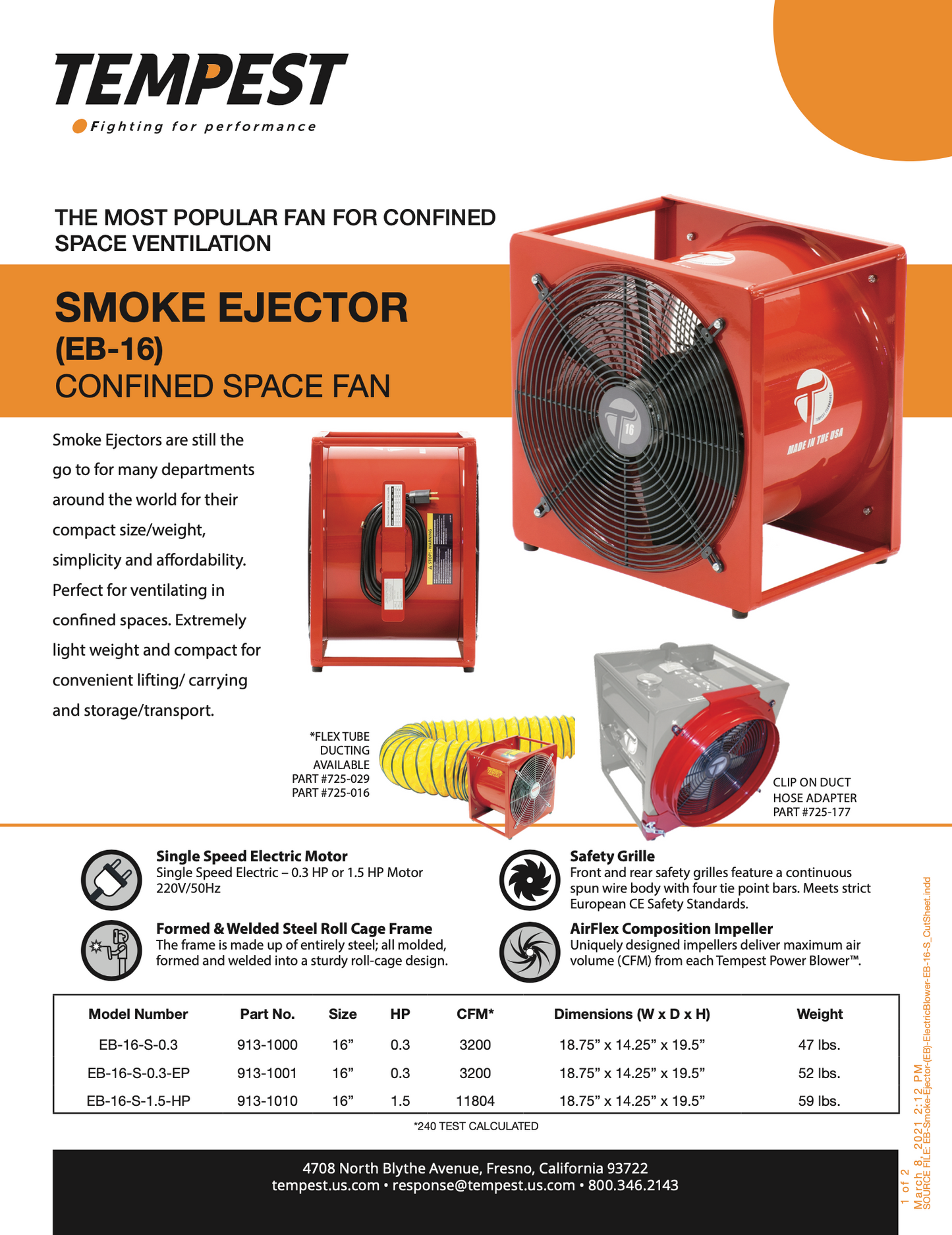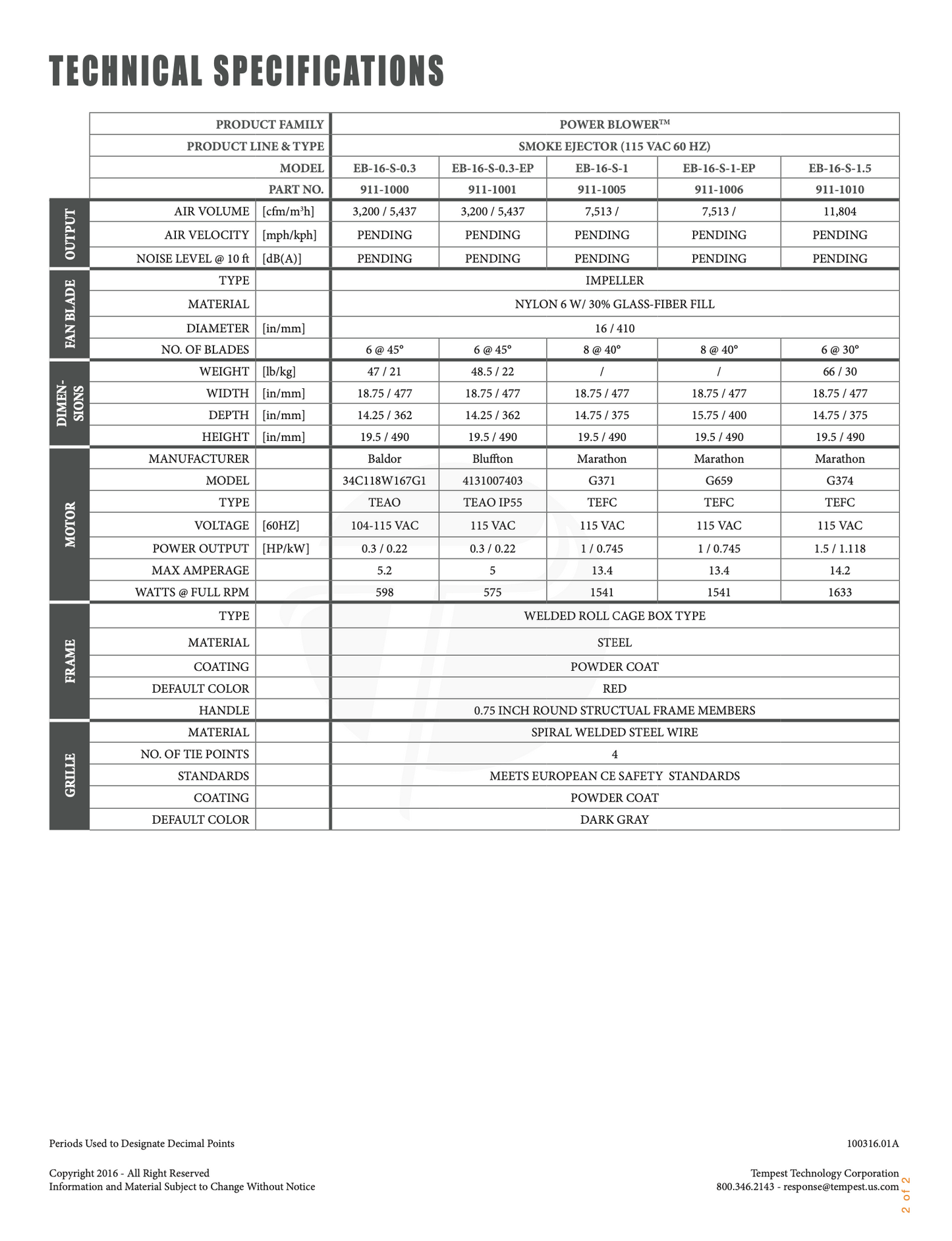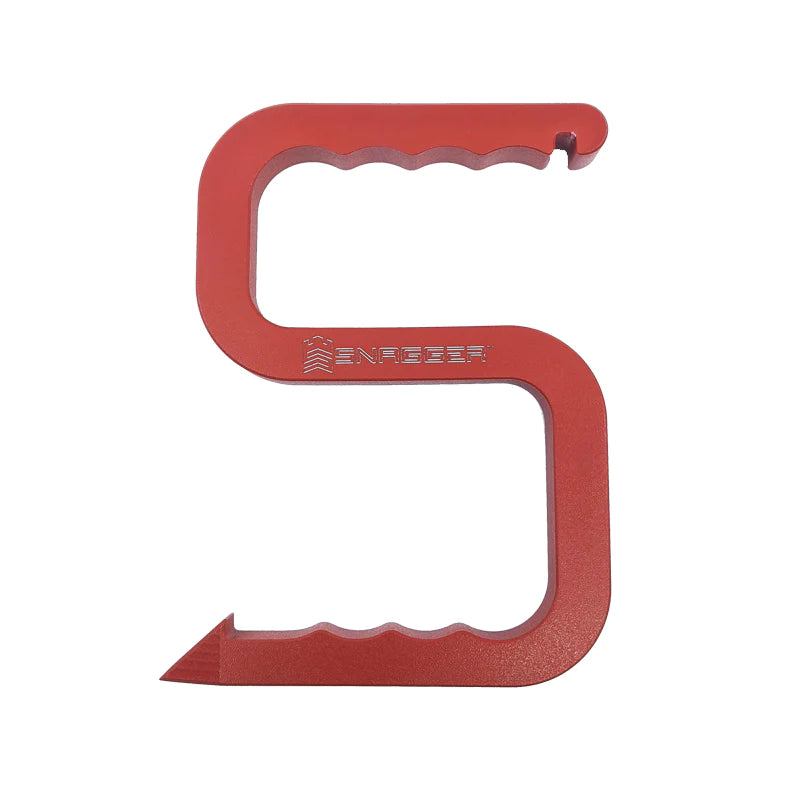 Motis Fire Rescue
The Snagger Tool by Motis™ is an innovative firefighting tool that allows you to handle a charged fire hose both safely and quickly. Its unique design also allows you to replace several tools with the Snagger!
Shop now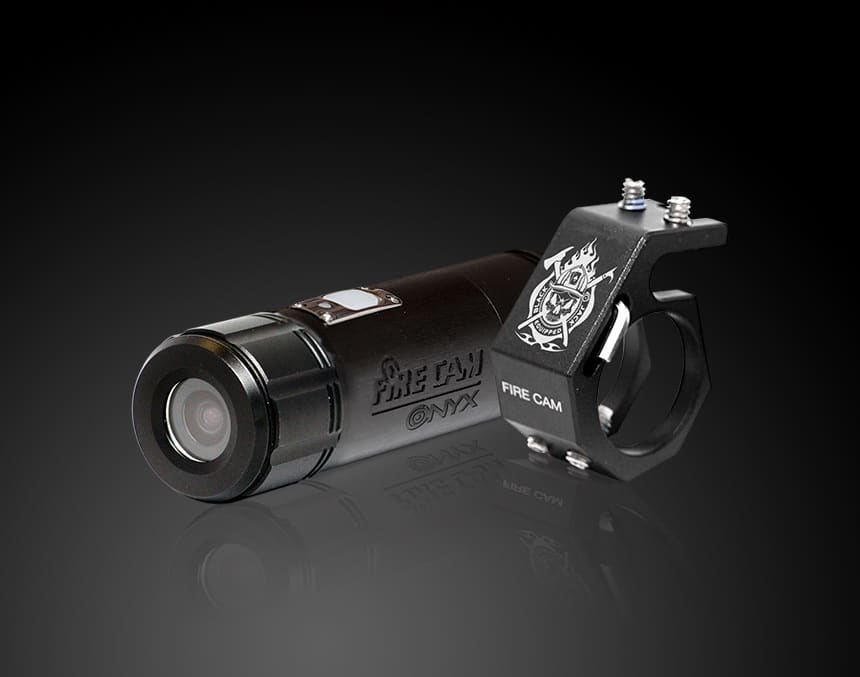 Fire Cam
Now recording in true 4K resolution at 30FPS, The NEW Fire Cam ONYX 4K Camera is the newest and best Professional 4K Fire Helmet Camera® we have built for interior and exterior firefighting.
Shop now